This website may contain affiliate links and advertising so that we can provide recipes to you. Read my privacy policy.
Melt-in-your-mouth brown sugar garlic air fryer salmon is juicy, tender and full of flavor. Salmon is so good, especially when it's cooked right, and the air fryer makes it perfect every time! It's an easy, hands-off way to make a scrumptious meal.
Serve this amazing salmon with a veggie and starch of choice. You can try some mashed potatoes, roasted lemon honey asparagus or a fresh panzanella salad! Brown sugar garlic salmon is super versatile and works with a variety of sides.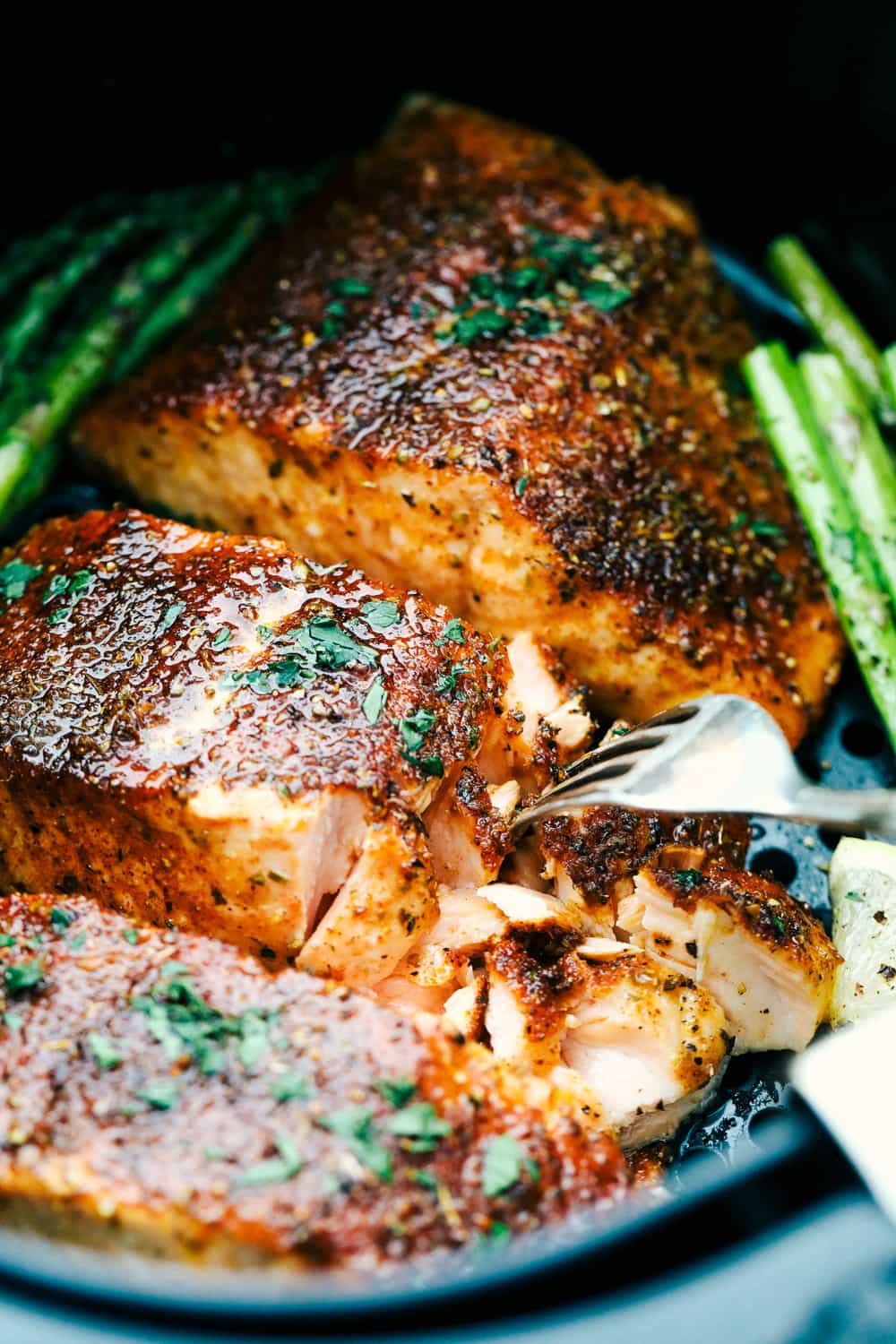 The BEST Air Fryer Salmon
Moist and flaky inside, crispy seasoned outside. Using an air fryer takes all of the guesswork out of making salmon! Sometimes it can be intimidating to cook seafood but it's so easy. This will turn a weekend meal to a weeknight staple. It's so quick too! 20 minutes or so and dinner's on the table. You can even make some air fryer asparagus or broccoli in a snap to go with it! A complete dinner in less than 30 minutes. (Aren't air fryer recipes the best?!)
Honestly, the combination of brown sugar and garlic is amazing. The sweet and savory is a match made in heaven. The brown sugar caramelizes on the surface of the salmon, adding a subtle sweetness that balances out the pungent garlic. It complements the flavor of salmon so well! Whether you're a seafood lover or not, this dish is sure to win you over with its unique and addictive flavor! Good thing it's so easy to make! If you love salmon as much as I do, find my full list of recipes here.
Why Air Frying Salmon Works
Air frying is just the best way to cook salmon for so many reasons.
Circulating: The way the air fryer cooks the salmon allows the air to circulate cooking the outside to crispy perfection. While the inside is juicy and flaky like it should be!
Salmon: Because salmon is a firm fish it won't fall apart in the fryer.
It's Fast: It's no secret anymore that cooking with an air fryer is faster and easier to clean up.
Heat: Using the air fryer won't heat up your kitchen and frees up the oven for something else. You are going to love it!
Ingredients for Brown Sugar Garlic Salmon
Sweet meets savory in the ultimate flavor fusion! Brown sugar, garlic, and salmon – the power trio that will make your taste buds sing. Here's everything you need to put this tasty salmon together! All measurements can be found in the recipe card below.
Salmon Fillets: This can be made with fresh or previously frozen salmon.
Kosher Salt and Pepper: Add to taste. I like using kosher salt because it doesn't have the bitter aftertaste that table salt does.
Brown Sugar: Provides a rich, sweet flavor and also adds a nice crust.
Chili Powder: Brings the heat to the sweet.
Paprika: Adds color and a little heat.
Italian Seasoning: The perfect blend of herbs!
Garlic Powder: A nice punch of flavor. You can also use fresh minced garlic!
How to Cook Salmon in the Air Fryer
Who says delicious meals have to be complicated? With an air fryer, whipping up brown sugar garlic salmon is a breeze – just pop it in, set the timer, and voila! A restaurant-quality dish ready in minutes. Now, that's what we call a tasty hack!
Rub: Salt and pepper the salmon to taste. In a small bowl mix the brown sugar, chili powder, paprika, Italian seasoning and garlic powder. Rub salmon seasoning into the fillets.
Bake: Place in the air fryer basket skin-side down. Bake at 400 degrees F for 10 minutes. If you are adding asparagus add it after the first 5 minutes.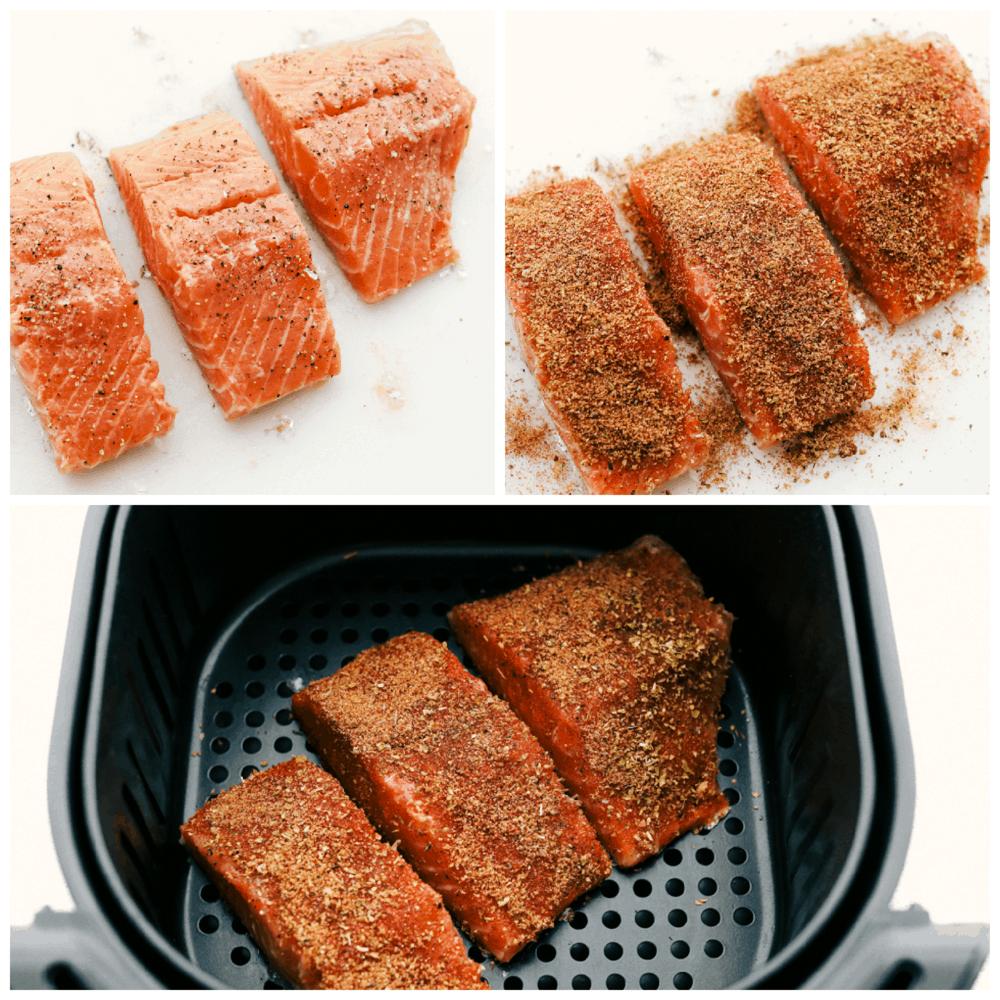 Tips for Air Frying Salmon
This air fryer salmon recipe is super easy and will be even better when you follow these extra tips!
Choosing your Salmon: Both fresh and frozen salmon work for this recipe. Thaw the frozen salmon before cooking. Salmon should be clean, brightly colored, and free from soft spots or discolorations.
Dry: To help the seasonings stick to the salmon pat it dry with paper towels. Also press the seasonings into the salmon so it stays on the salmon.
Check if Done: Check the salmon early to make sure you don't overcook it. You do not want to overcook salmon. Using a meat thermometer, check the thickest part of the salmon. The internal temperature should be 145 degrees F. Remove from the air fryer immediately, it will continue to cook if left in the basket.
No Thermometer: If you don't have a meat thermometer you can tell when Salmon is done by the color. When salmon is cooked it turns from a translucent reddish to an opaque pink. Raw salmon is translucent and reddish. When it's cooked, it turns opaque pink.
Storing Leftovers
Air-fried salmon, like any cooked fish, can last for up to 3-4 days when stored properly in the refrigerator. It's important to place the leftover salmon in an airtight container or wrap it tightly with plastic wrap before keeping it in the fridge. You can also freeze cooked salmon for up to three months! But let's be real, who can resist a delicious piece of salmon for that long? It's always best to enjoy it fresh out of the air fryer.
Reheating: I always like to reheat my salmon in the air fryer so it keeps that crispy crust. 4-5 minutes at 350 degrees Fahrenheit should do the trick! Try these amazing air fryer brussels sprouts to go with it! It's a quick and tasty meal.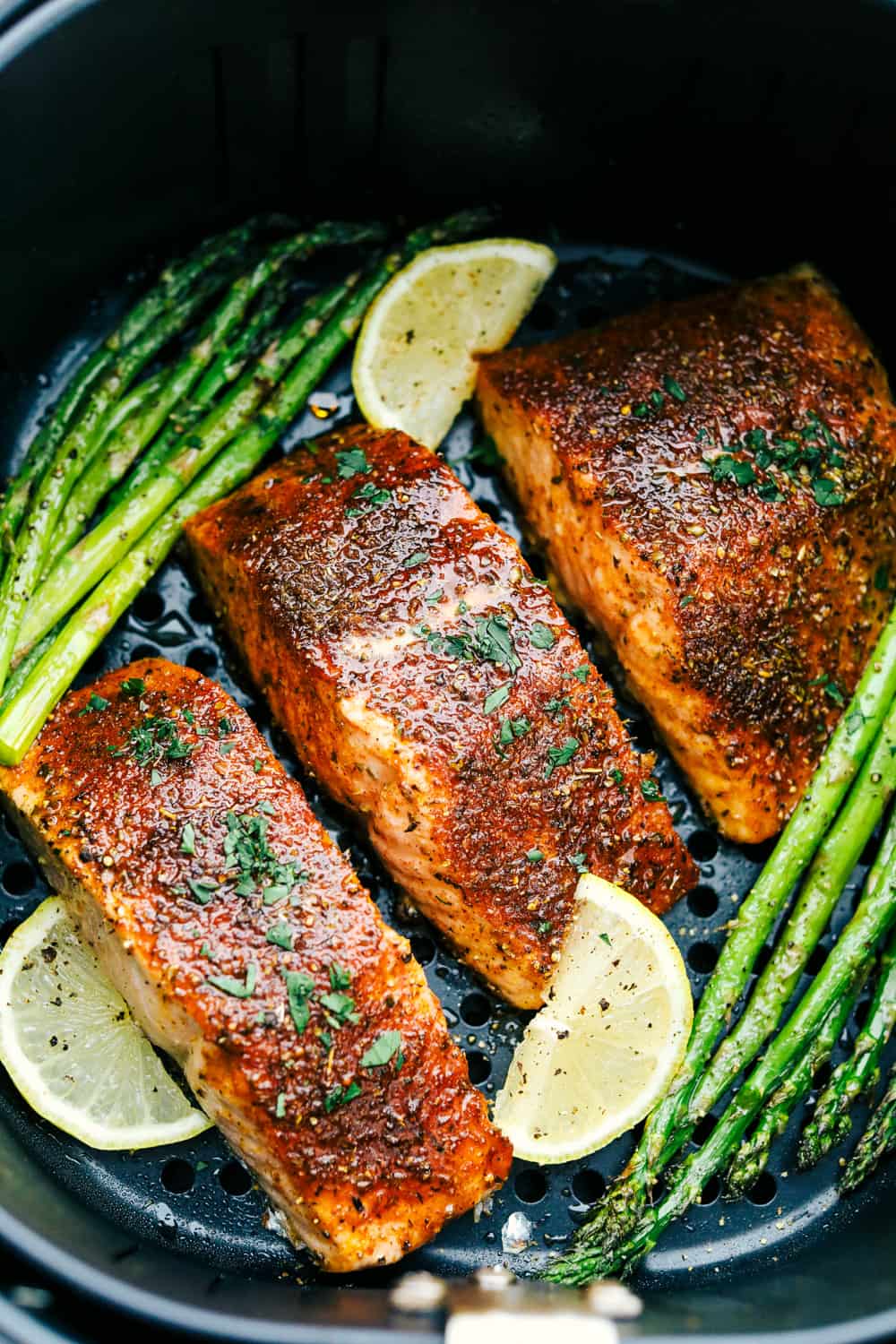 ---
Salt and pepper the salmon. In a small bowl add the brown sugar, chili powder, paprika, Italian seasoning and garlic powder. Rub on the salmon.

In the basket of your air fryer add the salmon skin side down. Turn the air fryer to 400 degrees and cook for 10 minutes. If adding asparagus add to the basket after 5 minutes.
---
Originally posted November 14, 2020
Updated March 15, 2023
---
Serves: 4
Calories190kcal (10%)Carbohydrates7g (2%)Protein23g (46%)Fat7g (11%)Saturated Fat1g (5%)Cholesterol62mg (21%)Sodium61mg (3%)Potassium574mg (16%)Fiber1g (4%)Sugar6g (7%)Vitamin A317IU (6%)Calcium27mg (3%)Iron1mg (6%)
All nutritional information is based on third party calculations and is only an estimate. Each recipe and nutritional value will vary depending on the brands you use, measuring methods and portion sizes per household.