This website may contain affiliate links and advertising so that we can provide recipes to you. Read my privacy policy.
Snow Ice Cream is as fun as it sounds! Let your inner child out and scoop up some freshly fallen snow to make this delicious frozen treat. It's thickened with sweetened condensed milk and flavored any way you want. It's hands-down my favorite snow day treat!
There is nothing like a memorable treat to make with your kids. I remember my grandma teaching me how to make Christmas candies and pie crust. There is something special about passing down delicious recipes while making lasting memories. One of my favorite memories in the kitchen is making perfect homemade bread for the first time and enjoying it with my grandma with freshly made strawberry jam. Those memories last a lifetime!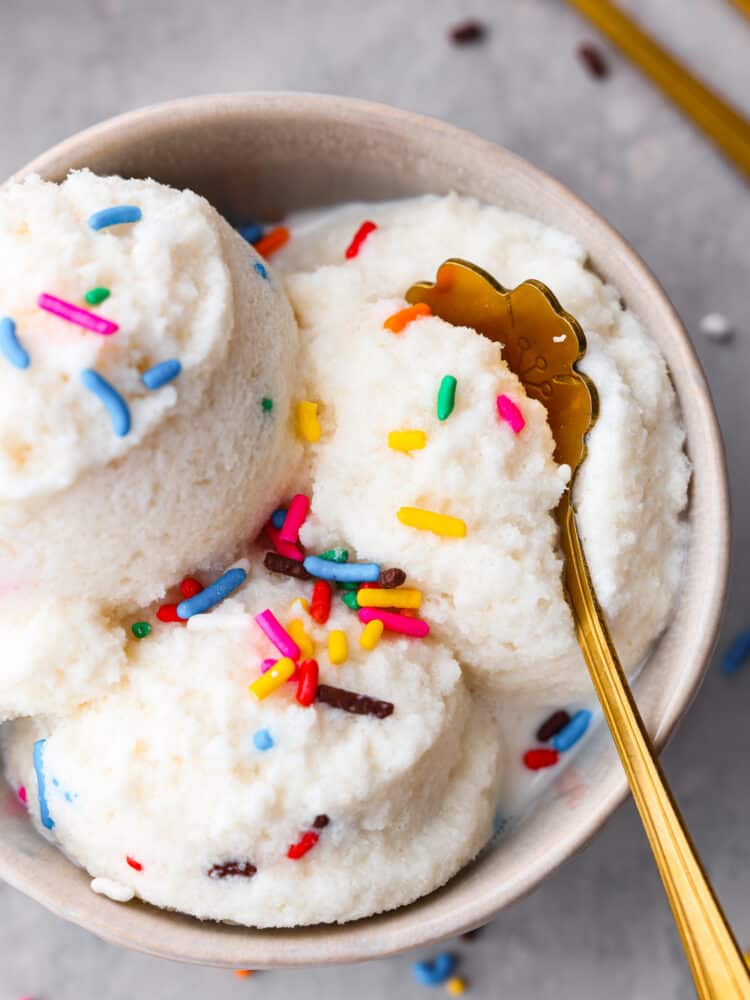 Snow Ice Cream Recipe
Growing up in Utah, I always see snow every winter! I loved going out and gathering fresh snow to make snow cones. I would have been obsessed with this snow ice cream as a kid! Now that I am a mom, I'm always looking for fun recipes we can enjoy together, and this one was an absolute blast. You add sweetened condensed milk to give it a creamy texture, and it is seriously just as good as vanilla ice cream!
You can spend a fun day with friends and family (adults love this treat too!) gathering the fresh snow. If you live in a warm climate or don't have snow at the moment, a shaved ice machine works just as well! Then you get to enjoy a sweet treat that is awesome served with a cup of hot chocolate or a warm chocolate chip cookie. The best part about this ice cream is you can flavor it in so many different ways. It was such a yummy treat, I really think you are going to love this one!
Ingredients
There is really nothing to this super fun snow ice cream recipe! If you did just the basics, it can be just 3 ingredients. I use sprinkles and whipped cream too, so my recipe is 5 ingredients. You could also add way more ingredients, like nuts, additional sweeteners, flavors, and different kinds of milk! It's all up to you. You can find measurements below in the recipe card.
Clean Freshly Fallen Snow: You actually use snow! This is a great recipe for a snow day with your kids. I recommend using a metal bowl to collect the clean snow, this will help it stay frozen. If you prefer not to use snow, shaved ice will also work perfectly.
Sweetened Condensed Milk: What makes this different than a snow cone is this ingredient! Sweetened condensed milk makes this recipe super creamy and full of flavor. If you didn't want to use sweetened condensed milk, you could use evaporated milk instead. If you are avoiding dairy, you could try a substitute like almond or coconut. Because plant-based milks have less fat, the texture of the snow may be less creamy. I think using canned coconut milk would be best because it still has plenty of fats in it!
Vanilla Extract: This ingredient makes the ice cream have a vanilla flavor. That way it doesn't just taste like sweetened snow, and it really tastes like vanilla ice cream!
Sprinkles: This is optional, but it makes the ice cream look so cute! You can use whatever sprinkles you like, or leave them out. You could use other ingredients like crushed cookies instead!
Whipped Cream: I like to top my ice cream with whipped cream, but it's totally optional!
How to Make Snow Ice Cream
Snow ice cream is so simple to make, so it's perfect for kids of all ages! You will likely need more than 8 cups of snow because the snow will melt a little bit as you are stirring. I would just make sure that you have enough snow for 10 cups and keep adding snow until you get your snow cream the right consistency.
Gather Snow and Sweeten: Fill a large bowl with about 8 cups of freshly fallen snow. Add the sweetened condensed milk and vanilla and stir until combined.
Stir and Enjoy: You may need to add more snow to get a nice creamy consistency. Add snow until you've gotten your desired consistency. Serve immediately and top with sprinkles and whipped cream.
Tips for Making Snow Ice Cream
This snow ice cream recipe is probably my favorite I've made all year! It is a super fun activity, and the end result is a delicious creamy ice cream dessert. It's almost like magic! Here are a few tips for having the best time making this recipe.
Use Fresh Snow: Only use clean freshly fallen snow for snow ice cream! This has been proven to be safe to consume, but the more time that passes since the most recent snowfall the less safe it is for consumption.
Using Shaved Ice: If you prefer not to use snow, you can use shaved ice instead. A shaved ice machine is a fun thing to have during warm months anyways!
Add Flavors: Snow ice cream can be topped or flavored in so many ways! You may replace the vanilla extract with some chocolate or strawberry syrup. Sprinkles, chocolate chips, chopped nuts, a caramel drizzle…the options are endless! You can even add some food coloring to make it bright and colorful. 
Storing Leftovers
Snow ice cream is something you will want to eat right away! It doesn't last very long, and it gets really hard in the freezer. I doubt you are going to have any leftovers anyways!
In the Freezer: Snow ice cream is best served immediately, but leftovers can be packed into a freezer-safe container and stored in the freezer for up to 1 month.
---
Fill a large metal bowl with about 8 cups of freshly fallen snow. Add the sweetened condensed milk and vanilla and stir until combined.

You may need to add more snow to get a nice creamy consistency. Add snow until you've gotten your desired consistency. Serve immediately and top with sprinkles and whipped cream.
---
---
Serves: 4
Calories344kcal (17%)Carbohydrates58g (19%)Protein8g (16%)Fat9g (14%)Saturated Fat6g (30%)Polyunsaturated Fat0.4gMonounsaturated Fat3gCholesterol36mg (12%)Sodium159mg (7%)Potassium396mg (11%)Sugar58g (64%)Vitamin A284IU (6%)Vitamin C3mg (4%)Calcium316mg (32%)Iron0.2mg (1%)
All nutritional information is based on third party calculations and is only an estimate. Each recipe and nutritional value will vary depending on the brands you use, measuring methods and portion sizes per household.